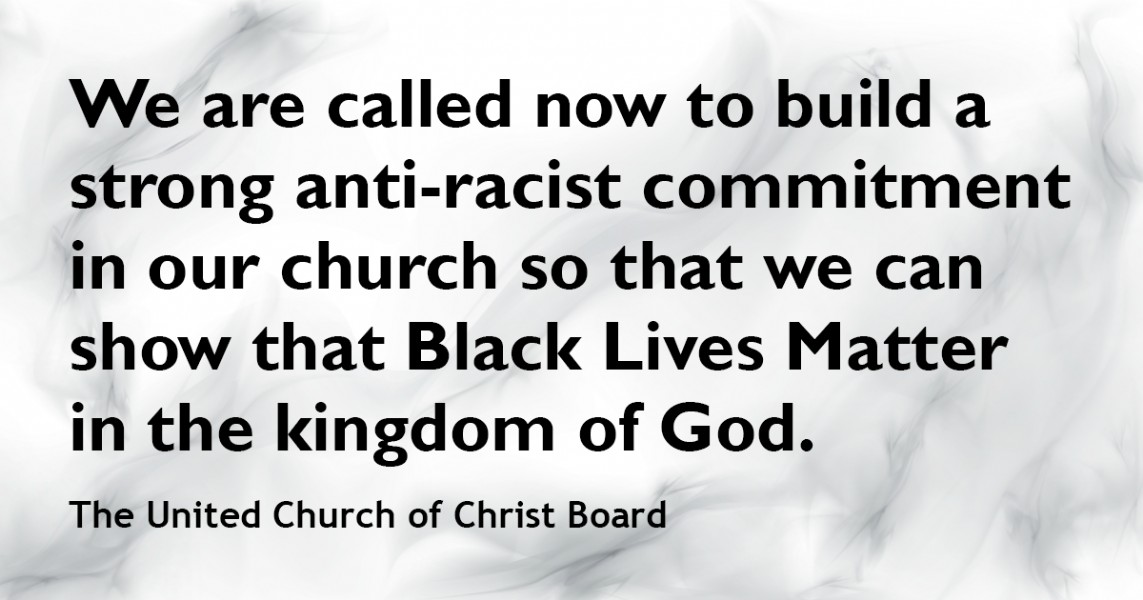 IVANHOE CONGREGATIONAL CHURCH
(CONGREGATIONAL CHURCH OF LIBERTYVILLE IN 1845) - THE CONGREGATION'S FIRST RESOLUTION AGAINST SLAVERY UNANIMOUSLY VOTED AND APPROVED AUGUST 23RD, 1845
"Aug 23 – Church met at three o'clock.  After a season of Prayer and conversation, the Committee on Slavery presented the following preamble & resolution; which were unanimously adopted.
Whereas American Slavery reduces men, women & children, made in the image of God to chattels personal - separates husbands from their wives – children from their parents thus annulling the Divine institution of marriage.
And whereas it denies and withholds wages justly due to the slave, prohibits him from gaining knowledge even from the Bible and thus dooms the slave to ignorance, superstition and heathenizes his soul redeemed by the precious blood of Christ.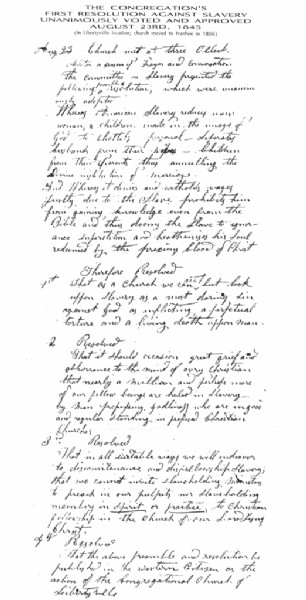 1st Therefore resolved that as a church we cannot but look upon slavery as a most daring sin against God as inflicting a perpetual torture and a living death upon man.
2nd Resolved that it should occasion great grief and abhorrence to the mind of every Christian that nearly a million and perhaps more of our fellow beings are held in slavery by men professing godliness who are in good and regular standing in professed Christian Churches.
3rd Resolved that in all suitable ways we will endeavor to discountenance and dis-fellowship slavery; that we cannot invite slaveholding ministers to preach in our pulpits nor slaveholding members in spirit or practice, to Christian fellowship in the Church of Our Lord Jesus Christ.
4th Resolved that the above preamble and resolution be published in the Western Citizen as the action of the Congregational Church of Libertyville."
Illinois came within 2,000 votes of becoming a slave state in 1824.  Cairo, Illinois is farther south than Richmond, Virginia and many downstate settlers came from the south.  In the early 1800's, slaves who could make their way to Illinois could live in relative freedom (even though "free" negroes in Illinois could not vote, own land, sue, testify in court or serve in the militia).  But when the 1850 Fugitive Slave act was passed, former slaves living in free states could be captured and forced to return back to their owners.
The Western Citizen was an anti-slavery newspaper published by Zebina Eastman and Warren Hooper on Lake Street in downtown Chicago.
Ivanhoe Congregational Church was a stop on the Underground Railroad.  James Joice and his 2nd wife Jemima, (affectionately known as Aunt Jemima), were former slaves who moved to Fremont township near the end of the Civil War.  James' wife Jemima and children Asa and Sarah Joice were long-time members of Ivanhoe Church.  Asa Joice became the first black elected official in Lake County when he was elected as Fremont Town Constable on April 2, 1889.  He was re-elected for 9 years after this.  He was also elected as the Fremont Highway Commissioner in 1908 and re-elected in 1911.